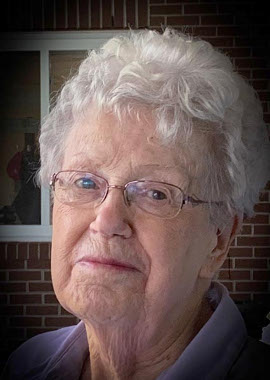 "Beth" died peacefully on December 06, 2022, at Hospice House, Fredericton, NB.
Born on July 2, 1923, in St. Vincent Township, ON. She was predeceased by her husband Lloyd G. Taylor and parents Wesley and Mabel (Hewgill) Dinsmore; sister and brother-in-law, Maye (Gerry) Cooke; brothers and sisters-in-law Stanley (Joy) Dinsmore and Harold (Helen) Dinsmore.
Beth is survived by her stepchildren, Gail (Robert) Tucker of Fredericton, NB and Keith (Pamela) Taylor of Newmarket, ON; six grandchildren, eleven great-grandchildren, and numerous cousins, nieces and nephews.
Beth grew up on a farm near Thornbury, and graduated from Ontario College of Teachers and University of Toronto. Her 41-year teaching career included one-room schools, small town schools, and 27 years in Toronto (East York).
She loved photography, travelling, and card making. Her adventures took her across Canada, United States, Europe, Central and South America, Russia, and South Africa, which included several missions trips.
She married Lloyd Taylor in 1976. On retiring, they moved to Thornbury, and continued to travel the globe and regale their friends, family, and seniors' groups with stories and pictures of their adventures. In 2005, they moved to Ste Anne's Court in Fredericton, NB, where they enjoyed their beautiful apartment and entertaining family and friends.
A special thank you to the ER and 3SW medical teams at Dr. Everett Chalmers Hospital and the amazing team at Hospice House who cared for her in so many ways.
In keeping with Beth's wishes, a memorial service will be held at the Erie Street Community Church (Church of the Nazarene), 200 Erie Street, Collingwood, on April 29, 2023: Visitation 10 – 11:30; funeral at 11:30 followed by a luncheon. Masks are optional. In lieu of flowers, donations may be made to Hospice House, Fredericton (Palliative Care Resource Network Inc) or Collingwood Church of the Nazarene. Personal condolences may be sent through www.chattersonfuneralhome.com