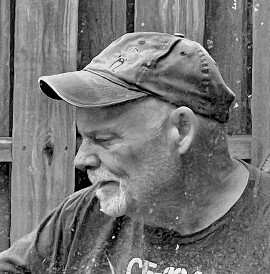 b. Dec. 11, 1960, d. July 15, 2022
Father, friend, and trouble maker
Shane was born to Bernice (née Schumacher) and Ken Roenspies in Edmonton, AB. His prairie roots shaped how he lived his life: independently and unflinchingly. Before serving in the Canadian Armed Forces, Shane played junior hockey for the Humboldt Broncos, drove anything that moved, and developed his fondness for enjoying life. He lived in almost every province and territory, while his service took him coast to coast, to Norway, Bermuda, and Vegas among other places. He came east some years ago to be close to his two adult children, whom he adored.
He met his former wife, Michelle Deschênes, in Cold Lake, AB. They were quite young and Shane was embraced by the Deschênes family. Two young islanders arrived, Rachel and Tony, on PEI, and a posting took the family on a cross country adventure to Vancouver Island a few years later. Shane is deeply mourned by his children, Rachel Roenspies (William Kim) and Tony Roenspies (Kerry Doucette). Shane's young granddaughter, Reese, brought him great joy. She will feel his love and hear her granddude's stories.
His sister, Lori Pozniak (Garry), and his brother, Kerry Roenspies, and their extended families will also miss Shane.
Shane was a fiendish sledder and had the scars to prove it. He was passionate about creating, whether in stained glass, woodwork, rebuilding vintage sleds, or landscaping. He had an innate sense of design and was a rare talent who could make anything.
Even so, simple pleasures were often his tonic. Shane was happy watching the Winnipeg Jets as well as feeding birds on his balcony: the cardinals, blue jays and others that stopped by. Likewise, a smoke and a couple beers in the shop or sled trailer with Wes, Johnny, Hilly – his buddies from the SVSA, SVORA, Cory and Esterhazy mines – and countless others. Some of his favourite memories were sledding events, indoor skydiving, and a special rip on country roads in supercars. Shane was a Roughriders fan and saw as many games as he could. Once the team let Shane and a buddy onto the field during practice to chat and try to catch a couple of kicks. It was a glorious time.
Meaford was a special place for Shane. Earlier he had lived by the bay with his kids. Most anything beautiful at the cottage came from his imagination and hands.
Even after two heart attacks, he lived large and partied hard. Shane was all in; nothing was halfway. We are grateful to the ICU staff at the Owen Sound Hospital for their kindness.
Shane was cremated recently in his Roughriders jersey. Celebrations of life will occur in Ontario and Saskatchewan, with details to follow. For now, we can honour Shane if we just give'er and enjoy what makes us happy.
If you wish to make a donation in Shane's name, please consider the Heart and Stroke Foundation of Canada, the Saskatchewan Roughrider Foundation, The Touch of Taryn Foundation, or Grey Bruce Health Services.