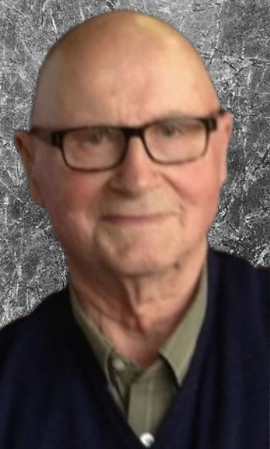 September 2, 1925 – November 25, 2022
It is with profound sadness that we share the passing of Bruce Payne at the age of 97, surrounded by his loving family, and cared for by the compassionate staff of Montfort Hospital in Ottawa.
Bruce was predeceased by his wife Rose; his parents James and Beatrice; brothers Harold, Maurice, and Elgin; and sisters Alice Kiessling, Vivian Stevenson, and Verna Ritchie. He is survived by his sister Olive Chisholm of Goderich, ON; son Len; grandchildren Jeff (Ashley), Tyler (Jennifer), and Caren; daughter-in-law Carolyn; great-grandchildren Easton, Charlotte, and a baby due in January 2023 (all of Ottawa); and many relatives across Canada.
Born in Thornbury, ON, and raised on a farm near Meaford, ON, at age 16 Bruce joined the farm excursion crew and worked on several ranches in Western Canada and the U.S. Bruce enlisted in 1943 with the Regina Rifle Regiment 3rd Division, 7th Brigade, as an anti-tank gunner in Holland during WWII. After the war ended, Bruce returned to Canada and worked as a faller in the lumber camps of British Columbia.
He met his future wife, Rose, in Vancouver, BC, and they married in 1950. The couple went on to farm in Alberta and later near Flesherton, ON, where they raised their son Len. In 1973, Bruce and Rose moved back to Vancouver where he worked as a millwright until his retirement. Rose, who was the love of Bruce's life, passed away in 2007. In 2016, Bruce relocated to Kanata, ON, to be closer to his son and grandchildren.
Family and friends were always very important in Bruce's life and he made it a priority to stay in touch with his loved ones regardless of the distance in between. Our family is very grateful for the time they were able to spend together with Bruce over the past seven years.
Friends and family may pay their respects at McEvoy-Shields Funeral Home, 1411 Hunt Club Road, Ottawa, ON, between 7:00 pm and 9:00 pm on December 15, 2022.