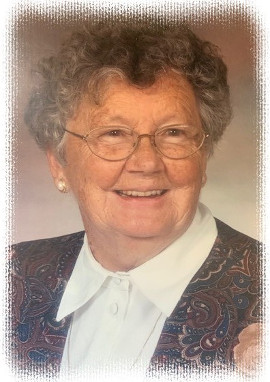 Claire was born in Collingwood Township to the late Charles and Catherine Heslip on January 10, 1922. She passed away June 29, 2021, at the Meaford Hospital in her 100th year. Claire is survived by her daughters Kathryn Gardner (Jim) and Sandra Mullin both of Meaford. She was the proud Nana and Grandma of four grandchildren and proud Omi of eight great-grandchildren. They were her greatest delight.
She was predeceased by her husband Ken, her daughter Marilyn Brooke (Ralph), and son in law Brian Mullin (Sandra), and her brother Amos Heslip and his wife Marjory.
Claire grew up on a farm outside Thornbury with a special love for plants and animals. She always had wonderful vegetable gardens and flowerbeds as well as many kinds of houseplants. She loved to share her flowers and herbs with anyone who came by.
She was very artistic and at different times painted, did macramé, sewed, knitted, and crocheted. Some of the knitted and crocheted items travelled the globe, tucked in the suitcases of international guests staying at her daughter Sandra's home. She made special gifts for Easter and Christmas for the children at the women's shelter and finger puppets for the local daycares. She had a very giving heart.
Claire loved to read and she and her daughter Sandra were regulars at the Net Shed once it opened in the spring. She enjoyed difficult crossword puzzles and would play a game of Scrabble every evening before bed. The television was usually tuned to the golf channel but with the sound down because as she said, I know how to play, I don't need all that chattering!
She and Ken were married on April 10, 1943, and moved to Meaford, where he had the local Esso Agency and there they raised their three daughters.
After Ken passed away in 1981, she and her daughter Kathy travelled to Great Britain and did a Mediterranean cruise. As well, she flew out on her own to Manitoba to visit her oldest daughter, Marilyn, and her husband Ralph on several occasions. She would often say that for a girl from the farm, it was quite a feat!
Claire and Ken loved to play golf and played many courses locally, winning various trophies between them. When Ken retired and they did more travelling with their little Trillium trailer, the golf clubs were always packed, whether it was a trip to the west or east coast of Canada in the summer or to Myrtle Beach, NC, in the winter. She had both hips replaced in her 60s but still continued to drive until she was 90 and golfed as well. She was always quite healthy so this final illness was very unexpected.
She was very musical and could play piano, organ, guitar, and violin. She loved to sing in the United Church Choir and was a member of the choir for almost 50 years. Her love for music was passed down through the family, and she watched with great pride as her grandchildren and great-grands took part in various musical festivals or productions. It was not uncommon to 'have some music' after dinner at Christmas and Thanksgiving with everyone joining in.
Her faith in the Lord was vibrant and she was very involved in various aspects of church life at Meaford United. She used to say her shoes could find their own way there! As well as being part of the choir, she helped with Mission Band (children's group), looked after the Cradle Roll, organizing moms and nervous dads for christenings, and was on the visitation committee for a number of years. She always had a listening ear. She loved people.
She was a keeper of the family histories and was working up several at the time of her passing as well as putting down her memories of growing up as a child, a world her great-grands could hardly fathom. Yes, she lived a long rich life and will be remembered fondly by many besides her family. We know, and rejoice that she is now in the presence of her Lord. Although we miss her now, we look forward to seeing her again one day.
A private family service of interment will be conducted at Lakeview Cemetery in Meaford with a public celebration of Claire's life at a later date when family and friends are able to gather safely.
As an expression of sympathy, donations to the Meaford Hospital Foundation, the Meaford United Church (cheques only please), the Owen Sound Women's Shelter or a charity of your choice would be appreciated and may be made through the Ferguson Funeral Home, 48 Boucher St. E., Meaford, ON, N4L 1B9, to whom arrangements have been entrusted.