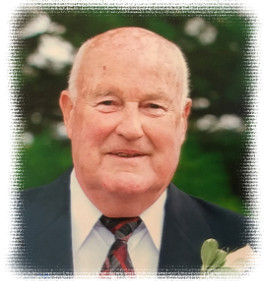 Charlie passed away peacefully at his home in Meaford on Thursday, May 19, 2022, at the age of 91.
Born in Chatsworth on April 13, 1931, he was a son of the late Gordon and Grace (nee Hunter) Macdonald.
Charlie was the beloved husband of Peggy Schenk for over 63 years, loving father to Phil and his wife Marcia, Greg and his wife Debbie, and Lee and her husband Bryan Fawcett. He will be sadly missed by his grandchildren: Lindsay and her husband Matt Brooks, Matt and his wife Laura, Tom and his wife Cailey, Tara, Lyla (Derek), and proud great-grandfather of Avery and Jacob Brooks, and Hunter, Addison, and Liam Macdonald. Charlie will be remembered fondly by his sisters-in-law, Georgina Schenk, Adele Schenk, and Marj Macdonald. He was predeceased by his brothers John and Hunter Macdonald.
Charlie arrived in Meaford in 1953 when he and his brother John started their business together in the Crest Hardware building. In 1979 they opened Macdonald's Furniture and Appliances where they worked hard together side by side for many years, and their legacy lives on more than 69 years later.
His hockey career began with the A.H.L. 'Hershey Bears'. Charlie was on the farm team for the Boston Bruins but broke his ankle playing ball and was unable to pursue his N.H.L. hockey career. He went on to play amateur hockey with local teams for several years, winning the 1957-58 Senior B Knights of Meaford Championship, and was a big contributor to the book Too Far Back in the Bush by Brad Wilcox. Charlie proudly served as the President of the Meaford Amateur Athletic Association. He loved sports and also played intermediate ball; he was a very talented athlete.
Charlie was a devoted Presbyterian and was honoured that he and his brother John were able to donate the land for Knox Presbyterian Church which has meant so much to their families over the years. He truly loved Meaford and participating in the community in any way that he could.
A funeral service will be conducted at Knox Presbyterian Church in Meaford on Wednesday, May 25, 2022, at 11 o'clock. We ask that masks are worn at the service to keep everybody safe. A Celebration of Charlie's Life will follow at the Meaford Community Centre where all are welcome to gather to share stories and enjoy refreshments while remembering Charlie.
As your expression of sympathy, donations to Knox Presbyterian Church (Cheques Only Please) or by etransfer at knoxmeaford@bmts.com would be appreciated and may be made through the Ferguson Funeral Home, 48 Boucher St. E., Meaford, ON, N4L 1B9, to whom arrangements have been entrusted. www.fergusonfuneralhomes.ca