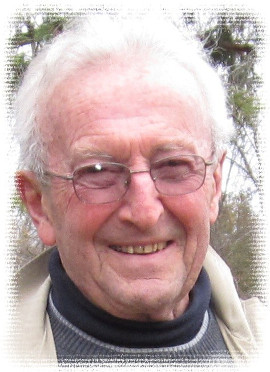 In the early hours of Friday, October 1, 2021, Donald Frederick Graham passed away unexpectedly and peacefully in his room at St. Joseph's Villa, Dundas, Ontario.
Born in Hamilton, he was 87 years of age. Don lived most of his life in and around Dundas, spent his later years in Meaford, Ontario, before taking residence at the Villa in 2020.
Don was predeceased by his brothers Bob (2019) and Jerry (2020). He was married to Helen Patricia Graham for over 40 years (deceased, 2004) and enjoyed a partnership with Ruth Campbell in his later years. He is survived by his sisters-in-law Lynn Matricardi and Gail Graham, and his two sons, David (wife Laurie Weatherhead of Dundas) and Mark (wife Debra Wilson of Wakefield, Quebec). Don will be dearly missed by his grandchildren Breanne (Alex), Braydi (Josh), Kodi and Kate (Robert Ashworth) Graham. His memory will continue through his great-grandchildren Tessa and Maxwell McNea, and Jayci and Dallan Hein. Don will be remembered by Debra's children Yachtz Radcliff and Talia Lueck, and Kate's mother Linda Ullyet.
Don had a long, productive career as a plumber and steamfitter in heavy industry. For many years, he held a leadership role in the training of young tradesmen. His strong passion for his family was evident throughout his life. He especially enjoyed time with his many grandchildren and great-grandchildren. Don also had a great appreciation for the outdoors and was an accomplished sport fisherman, fly tier and rod crafter.
We appreciate the amazing care and compassion that Don received from the team at St. Joe's Villa in Dundas. A private family ceremony will be conducted at Lakeview Cemetery in Meaford, where Don's ashes will be laid to rest next to his wife Helen.
As your expression of sympathy, donations to the charity of your choice would be appreciated and may be made through the Ferguson Funeral Home, 48 Boucher St. E., Meaford, ON, N4L 1B9, to whom arrangements have been entrusted. www.fergusonfuneralhomes.ca