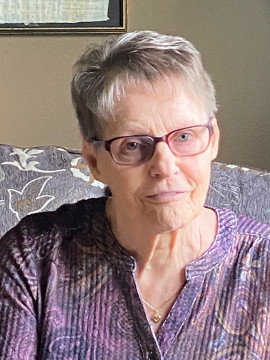 June 24, 1942 – September 20, 2023
Surrounded by family and love, Ruth passed to her eternal home on September 20, 2023, at the Stratford-Perth Rotary Hospice where she received care that went above and beyond. She has journeyed to Heaven where she has been reunited with her parents, Hycintha (Lougheed) and James Kell, her sisters Lorena, Leona, and Grace, and her beloved grandson Jamie Keating.
She is survived by her sisters Faith, Leah, and Marlene, and her brother David (Susan). She was Mom to Donald (Lisa), Cindie (Bill), Kelly and Kenny (Christina). She was Nana/Grandma to Nicholas, Naomi, Hillary, Megan, Hope, Hannah, Linnea, and Ian, and GranNana to Logan, Olivia, Carter, Addyson, Braden, Harlan, Warren, Callista, and Marlee.
Ruth was born in Markdale, Ontario, but spent almost all her adult life in Meaford, Ontario. The past four years she has lived with her daughter Cindie in Gadshill, Ontario, where she also became loved by some furry grand dogs Bentley and Charlotte.
Ruth was guided throughout her life by her strong faith in God. She was very proud of her career as a nurse. She enjoyed biking, walking, skiing, music, particularly playing the piano and singing. She especially loved being a Mom, Nana/Grandma and GranNana. The family is blessed to have so many memories, almost all of which involve some silliness and hearty laughter.
A very special thank you to Emily for her wonderful care and making our Mom smile and laugh.
A small family celebration of Ruth's beautiful life will be held at a later date.
Donations to the Stratford-Perth Rotary Hospice would be greatly appreciated. Donations can be made through W.G. Young Funeral Home www.wgyoungfuneralhome.com
"Well done thy good and faithful servant. You have been faithful over a little; I will set you over much. Enter into the joy of your Master."
Matthew 25:23