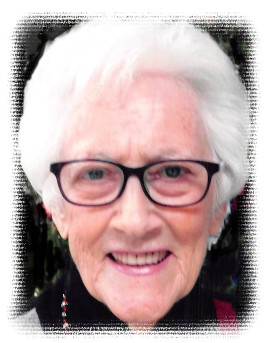 Beris Barlow passed away peacefully at Summit Place in Owen Sound on Thursday, April 21, 2022, at the age of 90.
Born in Australia on February 14, 1932, she was a daughter of the late John and Margaret Jones.
Beris was the cherished wife of William 'Bill' Barlow of Meaford. She was the much loved mother of Diane Barlow and Linda Miller (Howard).
Beris will be truly missed by her grandchildren: Brad (Mel), Kyle (Kristan), Dylan, Aaron (Melissa), Brandi (Luis), and Jessica, and her great-grandchildren: Kaley, Khloe, Ryder, Brock, Mackenzie, Lorenzo, and Kolton.
She was a proud member of the Meaford United Church and enjoyed singing in the choir. She valued her time spent with family and friends and enjoyed many family vacations tenting and picnicking along the way. Some of the pastimes she enjoyed over the years were skiing, reading, and gardening. Beris was a caring, cheerful, and loving person. She had a wonderful sense of humour and kept it right up until the end. Beris will sure be missed but will never be forgotten.
A service for family and friends will be conducted at Lakeview Cemetery on Friday, April 29, 2022, at 1:30 p.m.
As your expression of sympathy, donations to the Heart and Stroke Foundation or the Alzheimer Society would be appreciated and may be made through Ferguson Funeral Home, 48 Boucher St. E., Meaford, ON, N4L 1B9, to whom arrangements have been entrusted.