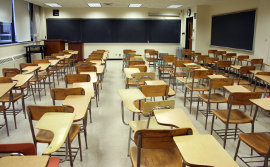 The change in the provincial government after the last election left some wondering if Meaford's planned new school would still be built, but those concerns have been put to rest with the announcement last week that the Ford government has approved the project.
"The Ontario government has approved the construction of a new school in Meaford for students in junior kindergarten to Grade 12," local MPP Bill Walker's office announced on Friday, April 5. "Ontario's government is standing up for parents and students and protecting and modernizing education through the construction of new and improved schools."
The brand new school building will also include an EarlyON Child and Family Centre, with free drop-in early years services and programs for young children and their families.
"Our government is pleased to support the building of the new Georgian Bay Community School for our community in the Meaford area," Walker said. "We are embracing changes in our education system which will focus our resources on the tools educators need to do their jobs to help our children find good jobs in the modern economy."
When the project is completed, Georgian Bay Community School will feature:
Space for more than 1,000 elementary and secondary students

One new EarlyON Child and Family Centre room for children aged 0-6 and their families
"We know that high-quality learning environments set the stage for student success," Walker added. "With today's announcement, our government is investing in the future of students and hard-working families in Meaford."
The Ontario government recently announced Education that Works for You, a new plan they say is designed to "modernize curriculum, modernize classrooms and empower educators to better prepare students for the realities of today's modern world."
"We will continue to focus on keeping our promises to the people," said Walker. "We are putting Ontario back on a path to balance so that we can protect the core services that matter most – like health care and education – while restoring fiscal sustainability to the people of Ontario."
"Schools are central hubs in many parts of our province. Our government is committed to supporting projects like the new Georgian Bay Community School in Meaford so that students, families and local communities have the spaces and supports to grow and thrive," said Minister of Education Lisa Thompson.
"We are very excited to move forward with the build of a brand new JK-12 school to meet the needs of Meaford area students. Many in the community are looking forward to this project, which will provide sustainable elementary and secondary education in Meaford for years to home," said Bluewater District School Board Chair Jan Johnstone. "We are thankful to the Ministry of Education for its funding commitment and ongoing support of this project."