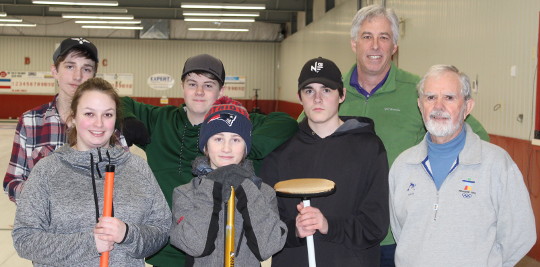 The Meaford Curling Club hosted the North Division playoffs for the Bluewater Athletics Association on Wednesday, February 15.
The local team from Georgian Bay Community School distinguished itself as one of the two teams moving forward to the Bluewater Finals on Tuesday, February 21 at Port Elgin Curling Club.
It wasn't an easy road to success for the GBCS team, losing their first game to Grey Highlands 8-6, and then having to win two do-or-die games to secure the B Final Champions status. Their victories were against OSDSS by a three-point margin, and against Grey Highlands in the B Finals, where they first of all came back from a 5-0 deficit to take a lead, but by the end of the game had to make a last shot draw against three counting stones to hold on for victory.
Players of the team are Aidan Matukas(skip), Adam Conn(vice), Madi Lewis (second), Colton Hewgill (second/lead), and Patrick Lougheed (lead). Coaches Tim Johns and Murray Dougherty are looking at the Bluewater Finals as an opportunity for this young team to pick up valuable experience.
Photo:
Front Row : Madi Lewis, Aidan Matukas, Patrick Lougheed, Murray Dougherty
Back Row : Colton Hewgill, Adam Conn, Tim Johns