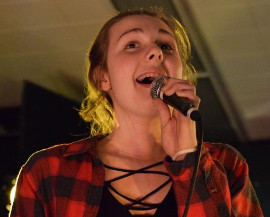 On Friday, January 20, the GBCS Music Department held their first Coffee House of the New Year.
The show donated all of its proceeds to the GBCS Students' Council, to help support the purchase of new team uniforms for the GBCS Thunder.
The show was hosted by the Student Council Co-Presidents, Gifford Marpole and Lucas Giulekas.
With an exciting twist, the show involved the audience with fun and entertaining games, including fudge eating contests, makeovers and sculpture making. As usual, GBCS bands and performers rocked the stage, including Grade 12 student, Michelle Wright (photo).
"The GBCS Music Department appreciates the exceptional support from the community," said organizers.