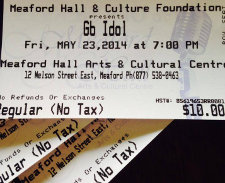 After three exciting rounds of competition, GBSS Idol 2014 will hold its finale this Friday night, May 23, at Meaford Hall.
The finale features the top three, as voted by the audience after April's third round. The competition started with 20 performers – bands, duets, and individuals alike, which was then reduced to 15 for the second round, 10 for the third, and now only three remain.
This round's cut was the deepest, where 70 percent of the acts were cut as opposed to 25 percent and 33 percent in the first two rounds, respectively.
The top three are all soloists, although at different points throughout they have all been joined by a backup band, depending on the song choice. These three are: Grade 12 singer and guitarist Sean Cop, Grade 11 vocalist Sara Harvey, and Grade 11 performer Nick Hallman. All three have taken different routes to the finale, but have all managed to win the audience's support and love over the competition.
With the show being staged at Meaford Hall, tickets have been on sale for several weeks. The show sold out rather quickly, proving just how popular and in-demand this competition is.
All three finalists are brimming with anticipation for the finales. They all describe the process as being amazing, and a whole lot of fun.
"I don't really think too much about anything else leading up to a performance other than how much fun it's going to be," finalist Sean Cop said, in regards to what he's thinking heading into the last round. "I mean that's why most people choose to perform music, because they love it."
The GBSS Music Department would like to extend a big thank you to the Meaford Hall & Culture Foundation for its generous provision of the venue free of charge, as well as its additional donation.
The competition wraps up Friday, May 23rd with the results announced at the end of the show. Expect a full report, and photos, sometime next week.