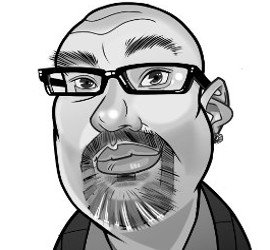 When I moved to Meaford nearly two decades ago, I did so in large part because I had tired of the hustle and bustle of living in a large municipality, and I was eager to live in a small, safe, and naturally beautiful waterfront community.
In my early years in this community I would often hear locals mock the notion of future growth of the municipality, often saying something along the lines of 'we've been told that growth was coming for years, and it has never happened'; well, it is happening, and the growing pains are already clearly evident.
We all live in this community for different reasons. Some of us were born here, while others like myself moved here from a much larger community. For some this municipality is an Eden to be cherished, while for others it is just another small town not unlike any other you might find yourself passing through on a Sunday drive.
Many of us value the more casual, small town pace of life, and we definitely treasure the natural beauty that surrounds us. The very things we love most about this community are also the very things that developers want to sell to home buyers. The best qualities of this municipality are extremely marketable, and now that developers have clearly discovered this little gem on the bay, they see an opportunity to entice folks to this community by offering new homes while pitching a lifestyle.
For us locals however, the prospect of growth brings with it many fears. Fears of losing the spirit of the community, fears of 'out of towners' moving in and bringing their big city ways with them. As a result, with many new development proposals comes the inevitable opposition, leaving our local council to balance the stated desires of the community with the requests for approvals from developers. Just one of many reasons I do not envy municipal councillors.
Small town resistance to growth is not unique to Meaford, and it is also not without a number of ironies.
For many years I have heard Meaford locals express a desire for things like an indoor swimming pool, or for a recreation centre, expensive infrastructure that requires a larger population than we have in order to financially manage and sustain. Every year I hear parents complain that Meaford lacks organized sports, without also acknowledging that Meaford also lacks the critical mass for organized sports leagues, and so parents in this community are 'forced' to drive to Owen Sound or Collingwood for such activities.
The reality is that in order for this community to realize the dream of indoor swimming pools or outdoor skating rinks, we need to grow the tax base, and that requires new development.
In this province we do enjoy the luxury of having input into proposed new development, and in fact, as someone who has been sitting in municipal council chambers for more than 30 years, I can say with certainty that never have individuals had as much input into the development process as we do today. And for some, that access to the process can result in the opposition of absolutely everything that is proposed, and as we have seen over the past week, that can come back to bite us.
Skydev, the proponent for a controversial development proposal at the end of Boucher Street on Meaford's waterfront has tired of the constant delays, frustrated with three submissions being lambasted by the community, and then the sale of a tiny sliver of land held up by council after pressure from residents to reject the sale. So they have appealed to the Ontario Land Tribunal, and I would suggest that the odds will not be in Meaford's favour.
Though I fully support residents exercising their right to engage in the process, we should also be careful what we wish for. I love to see residents engaging in the process of municipal governance, and though I personally find it difficult to get worked up about development proposals, I do understand the passion of some in the community to protect this fantastic rural municipality. But we should all pause every now and then to reflect on the fact that not everyone agrees when a proposal is opposed.
Often there are many that absolutely love a proposal but remain silent in the face of very vocal opposition. Just because you think something is outrageous doesn't mean that everyone will agree.
I know that I frustrate some folks because I simply don't care about most development proposals. I am indifferent. If we see new development, great, and if we don't, I am fine with that also. I have written before that at times I wonder if we have been granted too much input into the development process particularly when we (collectively) try to influence elements of design, while at the same time I recognize and support the need for some residents to help guide new developments, and to protect the community from less than ideal development.
Growing pains are a reality for this community for many years to come, and this community will continue to engage in the planning and development process. But we need to be prepared for the reality that we (collectively) cannot always be 'right', and we can't always win. And I suspect that on the Skydev file, we will take a loss.
Stay engaged, Meaford residents, but maintain perspective, and be careful what you wish for.