By Stephen Vance, Staff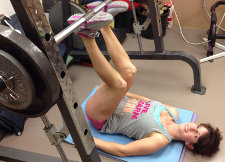 If it doesn't challenge you, it doesn't change you. That's the slogan for a new fitness centre in Meaford.
Not only do the workout plans prepared by owner and personal trainer Jennessa Brandow challenge her clients, the focus for the Challenge Fitness Centre is to make getting healthy as affordable as possible.
"I have beginner and advanced level classes in the evenings, and the fee is $5 per class in a pay as you go format," Brandow told the Independent in a recent interview.
After moving to Meaford a year ago, Brandow soon realized that affordability is one of the primary concerns for residents in the community with everything from property taxes to gym memberships, so when starting her fitness centre in October of last year, an affordable price-point was critical.
In addition to evening group classes – which are open to both men and women – Brandow also offers one-on-one personal training for just $25 per session.
In order to be able to provide affordable pricing, Brandow operates a stripped-down fitness centre that is heavy on quality equipment, while leaving costly expenses like the renovation and decoration of the gym aside in favour of an old-school style workout room that suits the needs for a solid workout without the flash of more expensive establishments.
Located on the lower level of the McGinty's Cafe building on Sykes Street, Challenge Fitness Centre has a variety of equipment from free weights to exercise machines, but before pumping iron, Brandow says that she conducts an extensive fitness and nutrition evaluation with her clients, which is then used to establish a healthy meal plan along with an exercise program.
"There are no cookie-cutter routines in fitness. Everyone is different, and everyone has unique needs from a fitness perspective," explains Brandow.
When asked for key advice for anyone looking to follow up on a resolution to get fit, Brandow says that maintaining a food log along with a workout log are critical for success.
"When you write down the food you consume throughout the day, it can help to keep you on track," offered Brandow. "The average person can lose 25 pounds, or maintain their weight simply by keeping a food journal."
Other tips for those wanting to improve their fitness, says Brandow, are to set goals, and adjust the goals as you reach them, and to add an additional five minutes of exercise every month outside of your regular daily routine.