Staff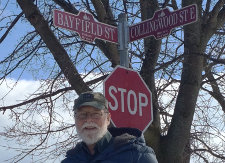 The Meaford Public Library and the Meaford Museum have teamed up with a presentation that will interest many in Meaford.
On Wednesday, March 5 at 2 pm at the Meaford Museum, John Kerr will give a talk on the Street Names of Meaford.
Kerr will take the audience on a lively tour of our town's street names and the fascinating stories of how they came to be.
This event is free of charge. Please register in advance at the Meaford Public Library.
For more information, call (519) 538-1060 ext. 1123.