Staff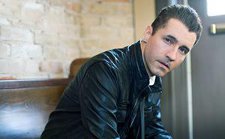 Critically acclaimed musical talent Royal Wood will be making a stop in Meaford this weekend.
His latest release We Were Born to Glory debuted in the Top 25 charts in Canada and was recently nominated for "Adult Alternative Album of the Year" at the 2013 Juno Awards.
The single "I Want Your Love" reached No. 1 on the CBC Radio 2 charts for three solid weeks, and remained in the Top 20 for 14 weeks straight. His videos for "Not Giving Up" and "The Glory" both found heavy rotation on Much Music.
Wood's music has been used in several TV and Film productions, including major TV shows like Grey's Anatomy, Private Practice and Being Human. A 2011 Juno nominee for Songwriter of the Year, a past recipient of the iTunes' Songwriter of the Year, and finalist in the "International Songwriting Competition", Royal has been asked to co-write with such notable artists as Randy Bachman (BTO, Guess Who), Colin James and Wayne Petti (Cuff the Duke).
His abilities as a producer and an arranger were recognized on his 2010 release The Waiting, when iTunes and CBC Radio 2 named his record one of The Best Albums of the year. His records have been released worldwide on Maple Recordings/Universal and Rounder Europe, and he has successfully toured in Canada, USA, Germany, France, The Netherlands, UK, Ireland and Italy. Wood has also supported national tours with David Gray, Sarah Harmer and Serena Ryder.
With his new album's grandiose string arrangements and deep emotional tenor, Royal Wood is — as Exclaim magazine so aptly put it — "on his way to establishing himself alongside the Canadian royalty of artists such as Sexsmith and Wainwright."
Royal Wood performs at Meaford Hall Arts & Cultural Centre Saturday, February 22nd at 8 pm. Tickets are $30 and available online or via the Box Office.
For more information on this and other Meaford Hall events: buy online at www.meafordhall.ca, call 1.877.538.0463 or drop by the Box Office.