Staff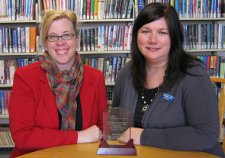 The Meaford Public Library has announced that Jody Seeley, Meaford's Children & Youth Librarian, recently won the Children's and Youth Services Librarian of the Year Award.
Seeley received the award at the 2014 Ontario Library Association's annual SuperConference in Toronto on January 30, 2014.
The award honours a children's librarian who has made a positive impact on children's or youth services librarianship.
Photo: Meaford Public Library CEO Cathie Lee (right) congratulates Seeley on winning this prestigious award.