Staff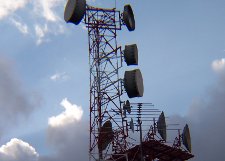 Larry Miller, MP for Bruce-Grey-Owen Sound, applauds the recently announced policy by Minister of Industry, the Honourable James Moore, surrounding the construction of cell phone towers.
The Federal Government has announced that it will be improving policy surrounding the construction of cell towers to ensure that local home owners and municipal governments are at the centre of the placement process.
The new policy includes requirements that companies:
Consult communities on all tower installations, regardless of height;

Build any tower within three years of consulting with communities;

Ensure community home owners are well informed of upcoming consultations
This will build on the Government's policy that requires companies to seek opportunities to share existing towers wherever possible rather than building new ones. The process for building a new cell tower will now be as follows:
Look to use existing infrastructure.

Contact the local authorities.

Consult the community.

Build the tower within three years of approval being granted.
"As the demand for cell phone service increases there is a need for new infrastructure to be built. Many people in the riding of Bruce-Grey-Owen Sound have expressed their concern to me about the construction of this infrastructure," said Miller. "These new regulations will ensure that local communities will have a say in the placement of new cell towers."
Further to the announced regulations the Federal Government has created a website that will strengthen federal communications with the public on tower procedure. For more information please visit; www.ic.gc.ca/towers.