Staff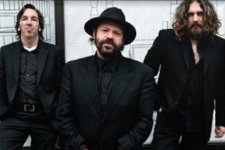 World Vision Canada is looking for volunteers for an upcoming Blackie & the Rodeo Kings concert at Meaford Hall on January 30.
Blackie and the Rodeo Kings is a Canadian folk rock/alternative country band with blues and country influences. The band was formed in 1996, in Hamilton, Ontario, by Tom Wilson, Stephen Fearing, and Colin Linden.
World Vision's Artist Associates program offers a unique alternative to traditional backing by providing financial tour support for performers who take the charity's message of hope to the stage. In 2005, nearly 50 artists teamed up with World Vision, a leading relief and development organization that supports over 3 million children in 55 countries. At their performances, the artists asked concert goers to make a difference by sponsoring a child. More than 3,000 signed up last year alone.
Through its child sponsorship program, World Vision works with families and communities in developing countries to help provide education, healthcare and a better future. It also provides HIV/AIDS prevention, care and education for children- many of whom are orphans living in communities with a high prevalence of the disease.
At their concerts, performers invite their audiences to make a difference by sponsoring a child. World Vision provides display materials about child sponsorship at the performance venue so audience members can become a child sponsor.
Those interested in volunteering can expect the following:
General duties:
· Setting up/tearing down of the Child Sponsorship table
· Answering existing sponsor questions
· Signing up new sponsorships
Specific skills needed:
· Friendly, warm and welcoming, approachable, independent
· Detail oriented – ensure sponsorship forms are filled out correctly
· Knowledgeable about World Vision sponsorship program
· Minimum 15 years of age (Grade 9)
Benefits would include:
· Meeting new people
· Sharing your knowledge about child sponsorship
· Seeing Blackie and the Rodeo Kings Perform!
To volunteer contact Polvier Folkes-Grandison Regional Volunteer Coordinator, by email at:
Polvier_Folkes-Grandison@worldvision.ca