Staff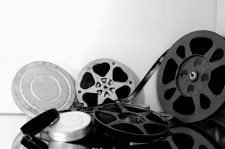 Transition Meaford is back with another round of their "Films For Thought" documentary screenings at Meaford Hall.
The three part series will be screened on the last Sunday of January, February and March, showtime is 1pm and tickets for each show are only $7 for adults and $2 for students.
PLAY AGAIN, January 26 at 1pm – What are the consequences of a childhood removed from nature? At a time when children play more behind screens than outside, this documentary unplugs a group of tech savvy teens and takes them on their first wilderness adventure, documenting the wonder that comes from time spent in nature and inspiring action for a sustainable future.
ARISE, February 23rd at 1pm – A film that captures the portraits and stories of extraordinary women around the world who are coming together to heal the injustices against the earth, weaves together poetry, music, art and stunning scenery to create a hopeful and collective story that inspires us to work for the earth. "Narrated by actress and environmental activist Daryl Hannah, Arise is both a documentary and an ethnographic study of women from around the world who share a profound intellectual and spiritual understanding of what it takes to live in harmony with the environment." – The Huffington Post.
URBANIZED, March 30th at 1pm – A feature-length documentary about the design of cities, which looks at the issues and strategies behind urban design and features some of the world's foremost architects, planners, policymakers, builders, and thinkers. The challenges of balancing housing, mobility, public space, civic engagement, economic development, and environmental policy are fast becoming universal concerns. Yet much of the dialogue on these issues is disconnected from the public domain. Who is allowed to shape our cities, and how do they do it?
Tickets are available online or via the Box Office. Don't forget Thursday Flicks – On the Screen every other Thursday in January through until April! Showtime 4pm & 7pm. Tickets are only $10. Playing this week January 23rd is Before Midnight, followed by Blue Jasmine on February 6th.
For more information on these and other Meaford Hall events you can buy online at www.meafordhall.ca , call 1.877.538.0463 or drop the Box Office.