Obituary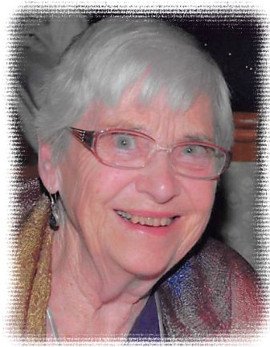 Vera Blowers, long time resident of Meaford, passed away peacefully at Gateway Haven in Wiarton on November 2, 2020, at the age of 90. Born in Southwick, Sussex, England, Vera was the daughter of Alan and Lillie (nee Morton) Steele of Newbury, Berkshire, England.
Vera was widowed in 1996 by her beloved husband and best friend, Tony Blowers. She was the cherished mother of David Blowers of Campbellcroft, and Claire Blowers of Wiarton, and was predeceased by her sons Richard and Martin Blowers of Acton.
Vera was the devoted grandmother of Jeremy and Jamie-Lee Blowers of Oshawa, Caroline and Andrew Campbell of Campbellcroft, Kenneth and Carol Blowers of Guelph, Stephen Blowers of Kitchener, and great-grandmother of Nathan Blowers of Oshawa, Emma and Jacob Campbell of Cambellcroft, David Jr. and Martin Blowers of Guelph, and Adrianna and Richard Blowers of Aurora. Vera was predeceased by her brother John 'Jack' Steele of Purley on Thames, Berkshire, England. She was the dear aunt of Laura and Rogier Lammertink of Holland, Lionel and Ruth Steele of England, and great-aunt to Corbin Steele, also of England.
Vera lived in Kenya, East Africa, for 18 years with her husband Tony and family. They travelled and enjoyed all of the wildlife in Africa. Vera and her family emigrated to Canada in 1974, and then retired in Meaford in 1994. Vera and Tony established the Globetrotters Club of Canada, which is an affiliate of the Travel Club in London, England. Vera and Tony enjoyed camping, gardening, and engaging in the Meaford community. Vera was a very passionate Guider for over 30 years, and thoroughly enjoyed the experience, from Treasurer to Leader to Commissioner. She loved all animals, even the tiniest of creatures. Her real love was for cats, especially Ginger ones. She still enjoyed camping and travelling with her friends after the loss of Tony and went tenting across Canada when she was 75 years old. She always had a large breed of dog at her side to enjoy walking and hiking the trails. Vera was an incredibly vibrant and energetic person who always wore a smile and a pleasing personality. She was very helpful at her church, neighbours, and involved with her Bridge Club, Literary Club, Dinner Club, Tai Chi, Church Trefoil Guild, Globetrotters, volunteer work in the community, and still found time to enjoy reading and music with her family and friends over a cup of tea. Vera will be remembered as a person who loved to laugh. She was very sharp-witted, was a warm and friendly supportive person who deeply touched all who met her. Cremation has taken place and there will be a private family service celebrating Vera's life at a later date. As your expression of sympathy, donations to the Grey Bruce Animal Shelter in Owen Sound or the Canadian Cancer Society would be appreciated and may be made through the Ferguson Funeral Home, 48 Boucher St. E., Meaford, ON, N4L 1B9 to whom arrangements have been entrusted.
www.fergusonfuneralhomes.ca