Brandon Forder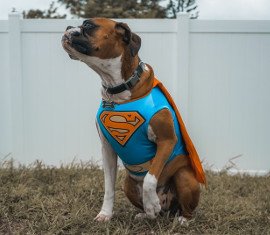 Halloween is a magical time of year as children dress up in their favourite costumes, with aspirations of filling their candy bag to the brim. In the current age of Covid, the trick-or-treating landscape will be quite different this year, however that doesn't mean the Halloween spirit isn't alive and well inside the home.
As fun as this may seem to us, Halloween can be a stressful and frightening time for our pets. Loud noises, ominous decorations, and dangerous foods can set the scene for a ghoulish evening.
Halloween is the most dangerous time of year for North American pets. In fact, the Pet Poison Helpline calls it their busiest time of year, as they receive a 12% increase in calls from panicked pet owners. The surge in emergency calls is largely due to pet ingesting Halloween candy, decorations, and costume material.
Here are my expert tips for keeping your pets safe and stress-free this Halloween.
Keep Candy Away from Pets
By now, we all know chocolate is dangerous for dogs and cats. It's not just cocoa our pets need to stay away from, as there are several other dangerous ingredients to consider. Xylitol, a common sugar substitute found in gum, candy, and other treats, is highly toxic and should be avoided at all times.
Additionally, candy wrappers are also a serious threat as dogs will often consume the candy and wrapper in one fell swoop. This can lead to stressful, painful, and very expensive vet visits. Play it safe, and keep Fido away from all Halloween treats.
Offer Pet-Friendly Treats
Whether you're going door-to-door in your neighbourhood or handing out candy from home, you may come across other dogs. Consider keeping some pet-friendly treats to hand out, as it will not only help lessen a dog's stress levels, but will also leave a positive impression with their owners. Pet owners looking out for each other is a big win for the community!
Choking Hazards
All seasons come with their unique hazards, and Halloween is no different. With the myriad of assorted candies getting passed around, to decorative beads and buttons on costumes, choking hazards are abundant. Be sure to carefully inspect all costumes your pets will be in close proximity to, and remove anything that poses a choking threat.
Many dogs get dressed up to celebrate the season, so ensure their costumes are safe, and are fitted properly. An improperly-fitted costume may cause a dog to fuss with it, chewing and tearing at the material. Many costumes are made with unsafe fibres, wires, and all sorts of questionable materials.
Fire Safety
While there is nothing that screams Halloween better than a well-lit jack-o-lantern, those illuminated with candles pose a fire safety risk. Dogs and cats can easily knock over candles inadvertently, or may rub up against a lit jack-o-lantern, potentially coming into contact with fire. So it's best to keep those far out of reach. Even better, replace your old candles with a battery-powered light. It's a super safe and inexpensive solution to an easily volatile situation.
Identification
Having current identification on your pets at all times is essential. Due to the sights and sounds of Halloween, many pets will have a heightened level of stress and anxiety. When a pet is spooked, their behaviour can become unpredictable. Whether it's a loud noise or a creepy costume, it only takes a moment for an animal to panic and take flight. Many dogs may bolt out the front door, or come loose from their collar, so proper identification is crucial in getting your pet back in your arms safe and sound.
Provide a Safe Space
Halloween can be overstimulating for our pets, so providing them with a quiet, safe place to retreat to is very important. Every pet is different in how they respond to stressful events, but when in doubt, bring Fido to a place he is comfortable in, like a living room or bedroom.
Consider turning on the television or radio for comfort. It's also advisable to have a special toy or treat to use as a positive distraction, something your pet can focus their attention on.
When planning for a safe and happy Halloween, be sure to plan in advance for your pets, too.
Brandon Forder, known as The Pet Expert, is vice-president of Canadian Pet Connection, an industry leader in healthy pet lifestyles. Brandon holds multiple certifications in pet nutrition, and has more than twenty-five years' experience specializing in pet health and behaviour. He has written hundreds of informative pet-related articles for newspapers, magazines, radio, and the popular Ask the Pet Expert Blog. Brandon is highly skilled in pet problem solving, and enjoys teaching others about smart and responsible pet ownership. To learn more, visit www.CanadianPetConnection.ca.