Staff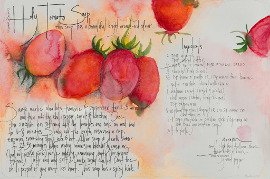 The Artists' Kitchen Table is an exhibition of illustrated recipes from two dozen artists at The Grey Gallery in downtown Owen Sound.
Curated by Anne Dondertman, the exhibition includes a diverse range of watercolour and acrylic paintings, ink drawings, collages, and fibre art. Each piece contains the full instructions and ingredients list for the artist's favourite recipe. Designed to celebrated the local harvest, The Artists' Kitchen Table exhibition presents vibrant and creative ways to cook and present food. The Grey Gallery (883 2nd Avenue East) is open Wed-Sat from noon to 5 p.m.
The catalogue accompanying The Artists' Kitchen Table includes images of the artwork in full colour and the stories behind the artwork. Recipes range from traditional family favourites (chili sauce, Irene's wild apple pie, Baba's Borscht) to innovative contemporary dishes (maple kimchi, garlic scape pesto, cheesecake layered pumpkin pie).
Community cookbooks have a long history in Canada. Originally designed as a way to share recipes beyond the family circle, the genre became the most popular type of cookbook published in North America. The Artists' Kitchen Table Cookbook, published by The Ginger Press, includes 37 full colour recipes as well as the artists' statements about their work and their bios. Copies ($20) are available at Grey Gallery, The Ginger Press bookshop, and online at www.gingerpress.com.