Staff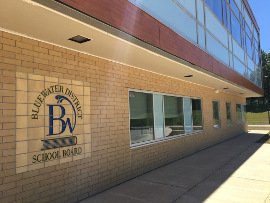 At a Special Regular Meeting of the Board on Tuesday, August 25, 2020, Bluewater District School Board trustees passed a motion authorizing staff to access up to two percent of the board's operating budget, to assist with the safe reopening of schools in September.
This motion follows the Ministry of Education's recent announcement allowing Ontario school boards to access up to two percent of any accumulated surplus as part of return to school planning.
While staff have yet to determine the specifics, the money will be used to help with various COVID-19 related expenses and practical items to enhance safety measures for students and staff this school year.
In Bluewater District School Board, financial reserves are accumulated over several years to provide a safety net for addressing any urgent needs as they arise. These typically include unexpected repairs, building maintenance and/or renewal, and other unanticipated purposes for local schools and facilities.
The Board of Trustees, who are responsible for oversight of Bluewater District School Board's annual budget, participate in monthly meetings to discuss and carefully plan for the effective and responsible use of the board's financial resources.
"Our reserves are built from trustees' years of hard work and ongoing mid to long term planning for our schools and facilities", says Chair Jan Johnstone. "This is not new funding for us, and as a small rural board, we are extremely limited in what we can allocate from our reserves. However, our highest priority right now is ensuring we do all that we can to provide for a safe return to school for our students and staff."