Staff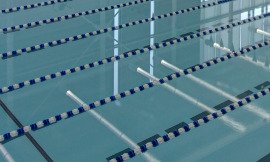 In this unusual year of a global pandemic and societal shutdown, it remains important to recognize and validate the efforts of the Owen Sound Aquatic Club's (OSAC) swimmers for their hard work, commitment, dedication, and success.
The energy and passion of all swimmers is to be commended, even more so during this difficult time, as the swimmers continue to pursue their personal health, fitness, and educational goals.
OSAC has plenty of reasons to celebrate their athletes. Many of the swim team athletes were recently recognized for their efforts and improvements at the OSAC Virtual Award Ceremony 2020. Three swimmers from COMP 3, the highest level within the club, were recognized as moving from the club to Varsity. Congratulations to Zach Miekle and Bonnie Slocombe who will be at Queen's, and to Alex Chaban who will represent at Waterloo. The COMP 1 Division awards were presented by Coach Cheryl Blay. Eric Miekle and Taryn Lee received Most Improved. The Award of Merit (formerly MVP) went to Aleida Nelson and Sam Rossel.
The Developmental program is broken in to three divisions, with the main focus being on skill development accompanied by having fun in the water and building team camaraderie. The newest swimmers to the club, known as the Splash level, are hard- working swimmers, learning how to do proper stroke technique and flip turns as well as building endurance. Ryan Wignall and Cali Morris were recognized by Coach Hailey and Coach Mark as the Splashers of the Year for their exceptional attendance, strong work ethic, and positive attitudes.
Developmental swimmers move from Splash to Tides. Tides builds on swimmer's developmental abilities, furthering stroke ability, endurance, and building speed. Coach Jordan Murphy recognized Liam Law and Catherine McManaman as most improved swimmers, and Lavina Stephen and Neils Nelson with the Award of Merit.
The final developmental level is Waves. These swimmers continue to focus on team and fun in the water while also further refining their skills and continuing to fine tune their speed in all aspects of swimming. Coach Virginia Diemart recognized Liston Brown and Brennan Law with Most Improved, and Sarah Wignall and Reegan Berner with the Award of Merit.
Additional recognition goes to Matt Milencoff (Guelph), Sarah Diemart (Laurentian), Noah Patrick (Guelph), Henry Pink (RMC), and Joanne Diemart (Ottawa) for continuing Varsity. The love of swimming continues throughout life.
"OSAC would like to thank all of their members for their passion and contribution to the ongoing efforts of Owen Sound Swimming. Together WE CAN stay strong, stay healthy and move forward to conquer new challenges," said the club.