Obituary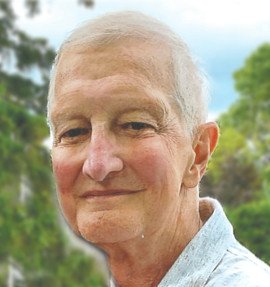 Malcolm Sidney Gough Cook, aged 74, of Meaford, died peacefully after a long fight with cancer on July 27, at Chapman House Hospice, Owen Sound. Survived by his wife Virginia, daughter Carolyn Cook (Richard Taylor), and their daughters Jasmin and India Cook Taylor of the UK, and youngest daughter Jennifer Rosser (Adam) and their children Lyla and Max of NSW, Australia. Also survived by older brother Stanley Cook (Mary), cousins Robin Kneebone, Martin Cook, Vivienne Stone of NSW, Australia, and Heather Farthing of the UK.
He was born in Cheltenham, Gloustershire, UK, in 1945. Malcolm worked as a technical illustrator and met Virginia in Cheltenham. They married in 1968, and moved to Bristol, England, in 1969. They were inspired by UK friends already living in Canada to emigrate. Virginia found a job with Border Brokers in Toronto, and Malcolm found work with Dow Chemical as a technical illustrator. Soon after he started his own business, working from home, doing work for GSW and other large companies. They appreciated the skills he had brought from the UK to do their technical drawings in their manuals.
During this time each of their respective parents in the UK were experiencing health problems and Virginia returned to the UK with their children, leaving Malcolm to pack up and move their belongings. Moving back to Cheltenham, they bought an old property called The Old Post Office in the village of Brimpsfield. It was here that Malcolm spent much of his time renovating and improving the old place. They lived there happily for 11 years, bringing up Carolyn and Jennifer and enjoying country life. Malcolm started up again, opening up his own business and employing a small staff, as he received work from the Ministry of Defence and another large company. Malcolm always wanted to build their own place and so they found a plot of land where he spent many hours finishing, doing carpentry, plumbing, and installing an underfloor heating system. He was a talented man. During this time he had to change his type of work and he worked as a print manager for a plastics company, and a print estimator for another print company. He was beginning to think that Canada was still where his dreams were and in November 2007, on the advice of some dear Canadian friends they found their dream home in Meaford. Malcolm and Virginia quickly found employment at the Blue Mountain Resort, and he worked their Rentals and Guest Services where his British accent was a hit with the customers. He was also employed locally as a retail assistant at Knight's Home Hardware.
There will not be a funeral at this point but a Celebration of Life will be held at a future date yet to be decided. Thank you to all our friends for the beautiful floral tributes received. They are much appreciated, but as an expression of sympathy donations may be sent to The Chapman House Hospice, Owen Sound, or the Meaford/Owen Sound Hospital Foundatons. Thank you.