Staff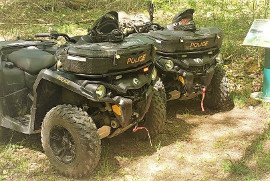 The Grey Bruce OPP has several trained all-terrain vehicle (atv) operators that are available to assist with patrols, enforcement, R.I.D.E., search and rescue and many other important operations that are not always possible or practicable with police cruisers.
There are many kilometres of The Bruce Trail and county trails that thousands of visitors, hikers, walkers and cyclists enjoy exploring each year in Grey and Bruce Counties. The atv's assist officers in locating injured or lost hikers, searching for missing persons and general patrol of the many trails, paths and rural roadways.
There are several active ATV clubs in our area and the Grey Bruce OPP monitor and patrol, looking for impaired and aggressive drivers, checking documentation and help to ensure the safety of multi trail users.
Safety Tips:
All-Terrain Vehicles (ATV) and Off Road Vehicles (ORV) on the road must travel at speeds less than the posted speed limit:
No more than 20 kilometres per hour (km/h) on roads with a posted 50 km/h speed limit;

No more than 50 km/h on roads with a posted 80 km/h speed limit;
An ATV/ORV driver must be at least:
16 years of age with a valid G2 or M2 drivers licence (for on-road riding)

12 years of age (for off-road riding)

8 years of age (for a passenger for on-road riding)

unless directly supervised by an adult or while driving on land occupied by the ATV/ORV owner
ALWAYS RIDE SOBER
A police officer can stop ORV and ATV operators on or off-road to demand a variety of tests to determine impairment by alcohol and/or drugs.