Staff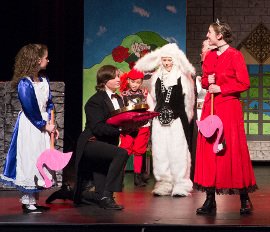 The Kids in the Meaford Hall Arts Society held their Annual General Meeting in Meaford on June 30. The Directors considered the prospects of mounting a new play this December under the continued presence of the COVID-19 pandemic crisis.
There is not only the problem of having appropriate rehearsals, but also having the student audience effectively socially distanced during the performances. This would require reducing each audience by two-thirds and booking Meaford hall for three times as many performances.
"Since we pay Meaford Hall their regular rates for the use of the theatre, this would triple our rental costs," KIMHAS President Rhonda Emerson noted.
As a result, the Board decided to cancel the performances planned for this December.
"If the COVID situation has improved by the spring, we might consider mounting an end-of-school performance this coming May or June," said Emerson.
Kids in the Meaford Hall is a registered charitable organization founded by the late Gunter Neumann. Each December the group puts on a series of free live theatre performances of a fairy tale or Christmas story in Meaford Hall. Over two days, the annual play is presented to over 1,000 local school children. The considerable cost, in excess of $11,000, is covered by donations from the municipality, local businesses and service groups, as well as private donors. The actors are recruited from elementary, secondary, and home-schooled children in the area, who spend many weeks in the fall rehearsing for the big show; the production staff are all experienced volunteers. The AGM reviewed last year's production of Alice in Wonderland, written by local author Brian Fray, which featured 24 characters in the cast. The final performance for adults was totally sold out and included many proud supportive parents and grandparents.
During this year's AGM, the financial statements for the year ending March 31, 2020, were reviewed and an auditor was appointed for the coming year. The board of directors was re-elected, including Rhonda Emerson, President, Carol Hethrington, Treasurer, and Chris Fray, Secretary. It was noted that one of the most important tasks for the new year will be to find additional members for the board and production staff. The Directors extend this invitation to any active individuals (theatre background is not necessary) who will be willing to work with the group to continue Gunter's goal of bringing live theatre in historic Meaford Hall to the more than 1,300 students in our area. If anyone is interested, please contact Rhonda at 519-538-2194.