Staff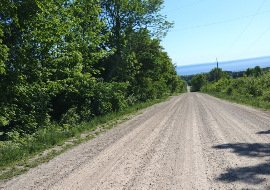 On Monday, June 15, the Municipality of Meaford started their annual granular resurfacing program on 56 kilometers of rural roads.
In partnership with EC King Contracting and Da-Lee Contracting, 20,000 tons of fresh gravel will be applied to roads throughout Meaford's countryside, along with dust suppressant to help keep dust down. The work will take place Monday to Friday from 7 a.m. to 5:30 p.m., over a four-week period.
"Gravel roads require the reapplication of material to keep potholes down, and keep the surface safe for all users of the road," said Manager of Transportation and Fleet Services Jessica Wiley. "We'll be using enough gravel to fill five Olympic-sized swimming pools, and all of it is locally sourced right here in our own community."
Locations for the 2020 granular resurfacing program can be found on the map below.