Stephen Vance, Staff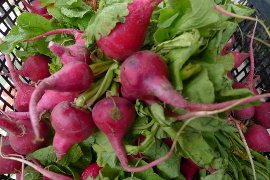 The Meaford Farmers' Market is set to kick off its 14th season, though the experience will be a little different this year thanks to COVID-19 precautions.
Beginning Friday, June 12, the market will establish a weekly customer pick-up at Market Square beside Meaford Hall.
"Volunteers from the Market Board and the community will be receiving orders from our vendors and then distributing them to the customers. Volunteers will be using sanitation techniques to clean frequently touched areas. Customers will be expected to maintain physical distancing of six feet well in line. Drive up orders will be excepted as well," Market President Charlie Aitken explained in a press release. "It is our goal as the Meaford Farmers' Market to provide the community with an opportunity to continue the market despite such unprecedented times."
Aitken said that market organizers are following the direction of the Grey Bruce Health Unit to ensure vendors and customers remain safe.
"The Grey Bruce Health Unit has put in place a guide to hosting a pick-up format for Farmers' Markets. With direction from Dr. Ian Arra, and the GBHU, the Meaford Farmers' Market has been approved to open their pick up location. The health and safety of our vendors, customers, and community is of the utmost importance," Aitken noted.
Aitken said that market organizers have established a format that will accommodate all vendors, and customers.
"Using our new website, www.meafordfarmersmarket.ca, customers can contact our vendors, inquire about their products, place an order and make a payment all from the comfort of their own home. The website will provide all information including each vendor's products and an explanation of their business," Aitken explained.
The market board was awarded a $1,000 grant from the Blue Mountains Village Association's Accelerated Spring Grant Program, which was used to fund their new website.
Among this year's vendors are Pure Music Garlic, FedFarm, Gillyflower, Lena Landei Country Culture, Sunnyside Honey, and Avalon Soap Company.
"We will be adding more vendors as they come. Any vendors interested in participating should contact the Meaford Farmers' Market for more details," noted Aitken.
Details for this season's Meaford Farmers' Market are as follows:
Opening Day: Friday, June 12
Frequency: Every Friday, 3 – 6 p.m. (vendor drop off one hour before, tear down one hour after)
Location: Market Square (27 Collingwood St E.)