Staff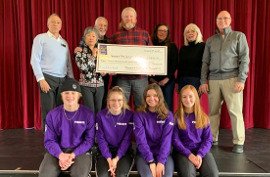 This month, the Meaford Culture Foundation helped fund the Pursuits Film Fest 4 at Meaford Hall.
Grade 7 and 8 students from Beaver Valley and Georgian Bay Community Schools attended the matinee and the public attended the evening performance which was a fundraiser for the Pursuits Program.
The Pursuits 2020 cohort will be the 15th at Georgian Bay Community School. The Pursuits Program is a four-credit integrated curricular program with a focus on experiential education. Experiential education takes the learning outside of the regular classroom. These opportunities carry an increased cost and to ensure that all students have an opportunity to take the program, fundraising is one of the necessary external money streams for the program.
"The Meaford Culture Foundation enables the presentation of and participation in unique arts and culture experiences that educate and enlighten, to level the playing field for our local youth and to champion Meaford as a place to live," said the Foundation.
The Pursuits Film Fest 4 is also sponsored by Mountain Life Media, Blue Mountain Resort, and Miller Golf Design.