Sorche Paterson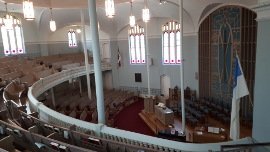 In the fast paced modern world we live in, obsessed with the next big new thing, it's important to take a step back and look at where we came from.
Heritage is important, especially in a small town like Meaford where so much of our history has been destroyed by fires or simply replaced. A significant staple of this town is definitely the Meaford United Church on the corner of Sykes and Boucher Streets.
Originally the Meaford Methodist Church, the former building on this site was torn down and replaced when the new century brought an influx of citizens to Meaford. The Methodists were eager to invite these newcomers into their congregation, but soon their building wasn't big enough to accommodate the parishioners. In March of 1908 this building was torn down and for the rest of the year, the church met at a roller rink on Trowbridge Street. The cornerstone of what we now know as the United Church was laid on Victoria Day, May 25, 1908. The new 64 ft2 sanctuary could seat 840 and an additional 300 seats could be added by raising the doors between the sanctuary and the large Sunday School hall.
For such a grand building, it truly was an architectural feat of the time, considering they had no power tools, no mechanical cranes, and no other luxuries we of this century often take for granted.
This new building also included a horse shed, but it wasn't just for 'parking' on Sunday mornings. During the winters, farmers would stable their horses in the shed, and there was even a horseshoe-throwing court for people of the church and town. Later half the shed was converted into a recreation and entertainment room for the youth.
It has been a place of growth and learning for many of the community's young people, with its Canadian Girls in Training program and the boys' group, Trail Rangers. It was also the home of a Young People's Society that met weekly with an average attendance of 40 in the earlier decades of the century. Several missionaries and ministers have emerged from this church and it has hosted interns from seminary schools.
In the 1980s, the Outreach Committee challenged the church to sponsor three refugee families from Vietnam. Each refugee family was paired with a family in the congregation to help with practical things like banking, shopping, and enrolling in school. The congregation paid for the first three months of the families' food and rent until they were each self-sufficient from work at a local factory. Eventually these three families moved to Toronto so their children could attend post-secondary schools, but they kept in touch with Christmas cards and telephone calls.
Nowadays, the United Church is known for hosting the annual Quilt Show, a VBS program in July, and other bazaars and events. Probably most of Meaford can say they've been there for a baptism, wedding, or funeral. They are a welcoming congregation and always have something going on. "Whatever your situation might be in life, whether or not you are a Church member, you are invited to come in faith to worship at Meaford United Church. Meaford United Church offers different things to different people. We are people working with people for people in the name of Our Lord Jesus Christ."
After a hundred and twelve years of wear and tear serving the community, the Meaford United Church building is in need of a new roof. A year ago, the congregants voted in favour of fundraising for a new roof instead of selling the church. Fortunately, it won't have to be taken apart and completely replaced, but because of its complexity, the engineering costs are high. New struts will be fixed into place by going in one side of the roof, reducing the risk of damage to the sanctuary. The 'Raise the Roof Campaign' is aiming to raise $250,000 over a 24-month period. They are almost at halfway with over $110,000, but the congregants can't fund this project alone and are asking the community to step up and help keep this important piece of Meaford's heritage intact for another hundred years to come.
Feel free to drop in at the church for more information and check out the Raise the Roof-Meaford United Church Campaign on Facebook.