Stephen Vance, Staff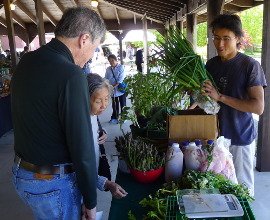 Sunny skies and smiling faces greeted vendors and patrons alike for the start of the Meaford Farmers' Market's 13th season on Friday June 7, at the Rotary Harbour pavilion.
The market, which has become a showcase for local agriculture draws thousands of shoppers to the harbour on Friday afternoons each year from June through October. The products available at the market each week varies depending on what is in season locally.
In addition to locally grown produce and meat products, a Friday afternoon visit to the market also features local live music, ready to eat foods, and a range of arts and crafts.
The 2019 Meaford Farmers' Market runs on Friday afternoons, from June 7 to October 11, from 3 to 7 p.m., off of Bridge St. at the beautiful Meaford Rotary Harbour Pavilion.
If you are interested in vending at the Meaford Farmers' Market, please download a copy of the 2019 Vendor Application Form from www.meafordfarmersmarket.ca and forward it to the Meaford Chamber of Commerce, or email to info@meafordfarmersmarket.ca. Also, if you are a musician or a community group/organization and would like to attend the Meaford Farmers' Market and/or if you have any questions, you can connect with the Market Manager at info@meafordfarmersmarket.ca.