Stephen Vance, Editor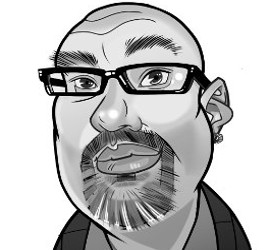 Newly elected Meaford Councillor Paul Vickers has certainly stoked some discussions in the municipality after announcing last week that he already has his eyes on another job, and would seek the federal Conservative nomination for the Bruce-Grey-Owen Sound riding after long-time MP Larry Miller announced recently that he would not seek re-election.
The reactions that I have seen and heard have been mixed, with some enthusiastic supporters of Vickers touting the fact that he's a great guy and would make a great member of parliament, while other were left scratching their heads wondering why they had wasted their vote on someone who mere weeks later has expressed interest in another job.
Many have asked me for my reaction to the announcement, and I have to say, it's complicated.
On the one hand, there is nothing that prevents a sitting member of council from seeking another office, so any opinions on this issue really come down to how we feel about it.
Vickers had explained in his press release published earlier this week that he had no intentions of running federally until Miller announced his retirement, and then he saw a window of opportunity.
That is perfectly understandable, though given that Vickers has only been sitting in Meaford's council chamber for a couple of months, you can't blame voters for feeling betrayed – they had after all just weeks ago voted for him.
The votes we cast are often very important to us. When a candidate is asking voters to commit their important votes to their campaign, voters rightly assume that in exchange for the commitment of their votes, the candidate is committing to representing the interests of those voters at council for the next four years. Vickers has only been in the politics game since he launched his campaign last summer, and he has already broken a trust with voters.
That said, as I wrote on this page recently, the rookie councillor was off to a good start. I have been impressed with Vickers's level of engagement at council meetings, his frequent questions, and his thoughtful input. Though it is still very early in this term of council, from my seat at the media table, Vickers looked to be proving to voters that he was worthy of their votes back in October.
However, while I have been impressed by the solid start that Vickers has had with his first kick at the can at council, I was surprised to hear that he was jumping at an opportunity to pursue another political seat. As much as I have been impressed with Vickers's performance in the council chamber in the early going, he still has a way to go before he would be what I would consider an effective and competent member of council. It takes time to learn the ropes, and Vickers has only just seconds ago grabbed hold of the rope, yet he's ready to jump to another rope.
So as a voter, who dedicated two of my five council votes to newcomers in the October election (one was not elected, the other, Vickers, was) I confess, I feel let down by Vickers wanting to jump ship so quickly. That said, at this point he is simply seeking the nomination, and there are a number of candidates lining up to fill Miller's shoes, so it is quite likely that Vickers won't earn the nomination anyway.
In fact, if I was a voting member for the Conservative party in this riding, I might question Vickers's dedication, given his willingness to abandon the 2,429 voters who only just a few short months ago answered his request for their votes. After all, what if Vickers were to be elected to parliament only to jump ship a few months later for another job?
Some folks have asked me if I think that Vickers should resign from his council seat if he is going to seek the federal nomination, but I think it is much too early for that. As I mentioned, at this point Vickers is only seeking the nomination, so there is no need for him to vacate his council seat. Should he succeed in securing the nomination for the BGOS Conservatives, then a different conversation would need to take place. Voters aren't always pleased with politicians who hold onto one elected position while dedicating a significant amount of their time and energy pursuing another elected position.
Once again, from my perspective, Vickers has been off to a good start as a rookie member of council, and he has been validating the 2,429 votes that he received. On the other hand, his willingness to turn his back on those 2,429 votes for an opportunity to run for another elected position is disappointing.
Had Vickers been in the early days of his third term on council and he decided to seek this nomination, I think some, including myself, would feel less abandoned, and most would likely see it as little more than inconvenient timing, but it isn't his third term, it is his very first term, and he is mere weeks into the commitment he made to Meaford voters when he asked them to commit to him, so I think it is perfectly natural for some folks to be irritated.
While he can opt to pursue another elected position, we can't ask for our votes back, but if we could, I wonder how Councillor Vickers would feel if just a couple of months into his very first term on council, voters, out of the blue, asked for their votes to be returned because we decided we wanted to consider someone else. I think Councillor Vickers would feel betrayed, I think he would feel cheated, and I think he would rightly cry foul.