Staff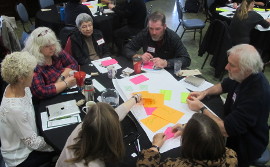 This year's Fall Food Gathering event combines the work of the United Way's Food Bank Summit with the broader-based mandate of the Fall Food Gathering.
The collaborative effort brings together food system players to connect, collaborate, share, and learn about current needs and opportunities to improve food security for all in Grey Bruce.
The morning session will include keynote presentations by Alison Govier, Co-ordinator of Community Drug and Alcohol, on "Mental Health and Addictions in Grey Bruce", as well as David Roy, Program Director of Addiction Services for H.O.P.E. Grey Bruce, speaking on "Where to Find Services in Grey Bruce".
The day will also include updates from the Food Security Action Group, discussion sessions, a presentation by the Bruce Botanical Food Gardens, as well as a tour of the Fresh Roots Community Gardens.
Lunch will be provided by Fresh Roots, a new cafe and catering business at CMHA Grey Bruce.
Join in for a day of vibrant discussion, inspiring presentations and good food.
Date & Location:
Thursday, September 20, 9 a.m. to 4 p.m. at the Harmony Centre in Owen Sound, 890 4th Ave. East. Cost is $20 at the door or Pay What You Can (PWYC)
For further information and full program details please visit www.gbsusnet.com/ffg18, email gbsusnet@gmail.com or phone 519-889-0695.