Stephen Vance, Staff
Overcast skies bringing the threat of rain couldn't dampen the spirits of vendors setting up for the first Meaford Farmers' Market of the season at the Rotary Harbour Pavilion on Friday, June 1.
After a long winter, vendors were eager to set up their tables and say hello to market patrons for their 12th season.
Returning this year is popular market chef Erin Shepherd, who prepares dishes each week featuring food products supplied by market vendors.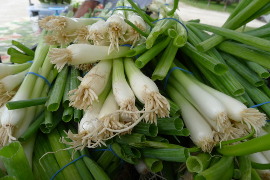 This season the Meaford Farmers' Market once again offers a wide range of marvellous local edibles including: a diversity of fresh vegetables, fruits, meats and fish, honey, maple syrup, dehydrated snacks, salsas, jams, jellies, relishes and chutneys, baked goods, olives and olive oil, homemade fudge and chocolates, dried and fresh-cut herbs and flowers. There will also be lots of arts and crafts such as paintings, cards, hand-turned pens, various wood products, and handmade stoneware.
Those looking for something to eat while at the market have a number of options this year with a number of prepared food vendors participating, including Sail Restaurant & Catering Co., Sheayer's Catering with their Syrian cuisine, Koreann's Kitchen with Korean cuisine, and Mojo's Feel-Good Food with their Indian cuisine.
The farmers market operates every Friday afternoon at the harbour from 3-7 pm until October 5.
Anyone interested in vending at the Meaford Farmers' Market, would like to promote something at the Education Table, would like to get involved with the Meaford Farmers' Market, and/or for any other inquiries, can contact info@meafordfarmersmarket.ca. Visit www.meafordfarmersmarket.ca for more info.