Bill Monahan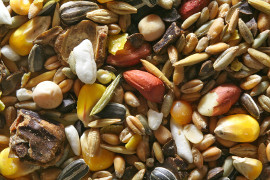 On Sunday afternoon, May 27, The Barn Cooperative on Highway 26 will be hosting their sixth annual Seedy Sunday from noon to four. It's a free family event happening both indoors and out with artisans, live music, children's activities, and a barbeque. The main focus of the event is as a resource for gardeners to provide seeds and seedlings from local sources.
Fairmont Fields will be providing seedlings of unique plants, including various tomato varieties, lovage, hostas, and more. Sideroad Farms will have flower seedlings on offer and Matt Moss is bringing sprouts.
There will also be worm compost for gardens from Jocelyn's Soil Booster.
"They just started bringing their product into the market," says operations manager Samantha McIntosh, "and it's a really great way to add probiotics and nutrients to gardens and plants."
Meaford Community Gardens is bringing a wide variety of veggie plants including tomato and pepper plants, with all proceeds helping to support the Meaford Community Gardens.
Meaford Public Library is participating for the first time this year with a booth explaining their seed library at which they'll be making seeds bombs throughout the duration of the afternoon.
This annual spring celebration is something that happens in localities all across Canada and the globe as a resource for gardeners. All of the individual gatherings have branched off from the original Seedy Saturday in 1990 at the VanDusen Botanical garden in Vancouver, B.C. The idea was germinated by Sharon Rempel who was struggling to find heritage grains, vegetables, and flowers for an 1880's heritage garden she was creating at the Keremoeos Grist Mill museum. Part of her efforts resulted in a kind of swap meet for local gardeners; the exchange of seeds was combined with workshops in which the cultural, culinary, and historical aspects of seeds were discussed. The idea has spread and it has led to an organization called Seeds of Diversity, which is particularly concerned with the survival and propagation of heirloom and endangered, particularly Canadian, varieties of seeds.
Meaford's Seedy Sunday originated with Kara Davison, the original owner of the organic market at The Barn.
"When the Market was privately owned," says McIntosh, "Kara started Seedy Sundays in 2012. It's grown each year and we're just looking to build on the great event that she started back then."
Artisans included in the event include Blushing Bunny and the Wilderness Soap Company, providing natural health and beauty products. Campfire Stix, a new artisan at The Barn collective, will have handmade rods for roasting food over the campfire.
"They are a really unique shape," says McIntosh, "kind of a horseshoe shape which is poking back at you, but the neatest part about them is that the handles are made from Georgian Bay collected driftwood."
For the kids there will be a surprise workshop from the Imagination Studio, hula hoops to play with, face painting, and pin back button making.
The Open Mic event upstairs in the coffee lounge at The Barn will be happening as usual from noon to two, hosted this week by Tamica Herod, and in the Practitioner's Room, Dani Dowle will be offering massages.
In addition to the usual variety of delicious organic treats in the lounge, there will be an outdoor barbeque, a salad bar, vegan sweets from Vanessa Purc of Nourishing Essentials, and turmeric-based elixers from Moonshine Mama's.
"Vendors will be setting up on the lawns," McIntosh says. "Ideally we envisaged it to look like a little fair. There are sixteen vendors currently."