Staff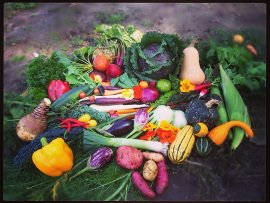 Groups and individuals from around Grey Bruce will be gathering at the Harmony Centre in Owen Sound on Friday, October 27 to brainstorm project ideas and actions that will address food security issues in our region.
The Food Security Action Group (FSAG), which is made up of healthy food promoters, soup kitchens, food banks, agriculturalists, church groups, local food promoters, funders, and policy makers, in partnership with the Grey Bruce Sustainability Network (www.gbsusnet.com), is finalizing plans for the day, which will include up to eight guest speakers, information sharing, and a facilitated 'world café' session to help narrow down strategic outcomes of the day.
To date, speakers will represent groups such as the Grey Bruce Health Unit, United Way, Poverty Task Force, Meaford Second Harvest, Hanover Launch Pad, The Meeting Place in Tobermory, and the Cedar Down Farm CSA.
Meaford's Jaden Calvert has been actively involved in planning the event and is excited by the possibilities.
"Getting together in a special space like the Harmony Centre, sharing stories about our community, and making efforts to develop projects that really address some of the troubling situations that exist is really exciting," says Calvert.
"We are glad to be part of the planning for this event," says GBSusNet Manager Barry Randall. "Food security and knowledge about healthy food and food preparation are key ingredients to more sustainable communities. The more opportunities we can create for people to understand the value of and have access to good food, the better prepared we will all be for the future."
For More information about the event please visit www.gbsusnet.com or email gbsusnet@gmail.com