Staff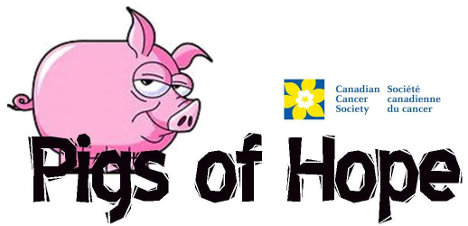 On Wednesday, October 1st Knights' Home Building Centre in Meaford will be the host site for a pig adoption. They're not live pigs but cute little pink piggy banks being used to raise money for the local Wheels of Hope transportation program that provides rides to cancer patients for treatment and related appointments.
They are called, "Pigs of Hope." Starting at 8am and running until 1pm society volunteers will be on site adopting out pink piggy banks.
The piggy banks can be adopted by a school, an organization a business or a family. Each bank comes with adoption papers and a fundraising goal and the idea is to drop your spare change in the pig during the month of October or ask family, friends, co-workers or clients to help you reach your goal.
In 2013 The Wheels of Hope program funded 106 local volunteer drivers. The drivers travelled 688,489 km's to provide 4,213 safe rides to cancer-related appointments for 359 people diagnosed with cancer. We also provided 9 local families with children with cancer funding for 165 trips to treatment.
The pigs will need to be returned to Knights' Home Building Centre November 3rd or brought to The Canadian Cancer Society office at 920 1st Ave West. If you can't make it but would like to adopt a piggy bank, please call our office at 376-6011 ext. 3233 and we will be sure to get one to you.
The Canadian Cancer Society is a national community-based organization of volunteers whose mission is the eradication of cancer and the enhancement of the quality of life of people living with cancer. When you want to know more about cancer, visit our website www.cancer.ca or call our toll-free, bilingual Cancer Information Service at 1 888 939-3333.