Staff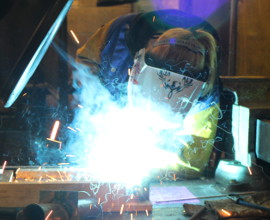 Thanks to the Canadian Welding Association Foundation (CWA Foundation), students enrolled in welding courses at nine Bluewater District School Board secondary schools are learning their trade with the added benefit of some new state-of-the-art headgear.
A recent donation of 69 auto-darkening welding helmets, which was made to the board's Ontario Youth Apprenticeship Program (OYAP), is yet another powerful example of the ongoing commitment by partnering businesses and organizations to support local students pursuing career related training in the skilled trades.
Schools that have been equipped with the new helmets include: Chesley District Community School, Georgian Bay Secondary School (Meaford), Grey Highlands Secondary School (Flesherton), John Diefenbaker Senior School (Hanover), Kincardine District Secondary School, Peninsula Shores District School (Wiarton), Saugeen District Secondary School (Port Elgin), Walkerton District Community School, and West Hill Secondary School (Owen Sound).
Students and staff alike are expressing excitement and appreciation for the donation, which will further enhance skilled trades related experiential learning in Bluewater District School Board.
"We are deeply grateful to the Canadian Welding Association Foundation for reaching out to us with an exceedingly generous shipment of brand new welding helmets," says Superintendent of Education Jean Stephenson.
"This contribution allows us to improve upon the top notch learning experiences and training that are being offered to local students who are considering career pathways in the skilled trades," says OYAP Coordinator/Facilitator Dave Barrett.