Staff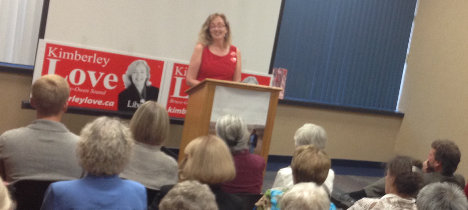 Kimberley Love is among the first half of "Team Trudeau" candidates elected for the upcoming Federal election in 2015. Love was acclaimed as candidate for Bruce-Grey-Owen Sound on Thursday evening (August 31) at the Bayshore, where more than 50 local supporters gathered to celebrate Love's candidacy and what they see as the fresh momentum of the Liberals.
Love has already offered some foreshadowing of the kind of campaign she hopes to run between now and the 2015 election:
"We're going to run a campaign that speaks to our common interests and aspirations. We're going to pay attention to the things that unite us as Canadian citizens, and as residents of this beautiful riding. And we're going to be part of the change that Justin Trudeau brings: with his positive vision of leadership, and his vision of restoring Canada's reputation as a leader in the environment, social justice, and democracy. I think that Canadians want a different kind of politics. And the prospect of that happening in 2015 is frankly thrilling."
MaryAnne Alton, former Director of the Bluewater District School Board, and chair of the nomination meeting, identified Kimberley with a list of other women trailblazers from the region including Agnes Macphail: the first woman elected to the House of Commons. By a remarkable coincidence, Macphail's birthplace is just four farms from where Love and her seven sisters grew up in Proton Township in south Grey.
Local Liberals say that Love's appeal spans traditional divisions in the electorate, including rural-urban geography and age demographics. Among Love's many supporters on Thursday night were two local youth: Alex Watson, age 22 from Owen Sound, and Kaisha Thompson, age 24 from Meaford, both have taken on important roles on the Liberal team.
"Kimberley understands the issues of our generation – in this area we are faced with incredible unemployment and I'm hopeful that with Kimberley in Ottawa we see that change," says Watson.
Ron Oswald, long-time Mayor of Arran-Elderslie and former head of the Canadian Cattleman's Association seconded Love's nomination. His comments focused on her engagement with the interests and concerns of the rural community.
"Kimberley can speak with farmers, and speak to policy-makers about rural policy from a knowledgeable perspective because she's got the grounding of a family farm background. Kimberley has an insider's experience of seeing how the agribusiness industry works, and she's already a recognized voice within the Liberal caucus on rural and agri-food issues. She'll be an excellent representative for the rural people in this riding."
According to some recent polls, the number of decided voters favouring the Liberal Party has doubled in the period from May 2011 to Aug 2014.
The doors will open shortly on Kimberley's campaign office, located close to Owen Sound City Hall and across from the Owen Sound Farmer's market. Love is actively recruiting volunteers for her campaign, and is proud to have supporters from across traditional party lines.
"In 2015 we need to elect a progressive, pragmatic voice to Ottawa. I hope to be your choice and to represent Bruce-Grey-Owen Sound as we tackle the important issues of the economy, our environment, and the future of Canadians."