Staff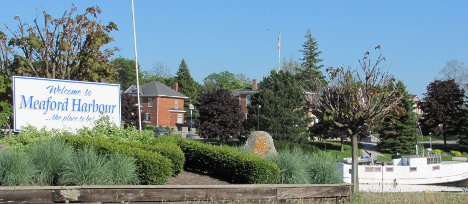 This week, Larry Miller, MP for Bruce-Grey-Owen Sound, on behalf of the Honourable Gail Shea, Minister of Fisheries and Oceans, announced that the Government of Canada will invest in a significant project at the Meaford Harbour.
This project will involve the refurbishment of the concrete deck and parapet of the west basin wall of the harbour. Currently, the concrete is in poor condition and potentially presents a safety risk to users and their vessels. The tendering phase for this project is planned for the end of summer 2014 with construction to begin in early fall. The project is to be completed within two months.
This funding comes as part of the Government of Canada's investment of approximately $106 million in repair, construction, and maintenance projects for small craft harbours across Canada. This includes regular annual funding and an additional $40 million to be allotted over two years, as announced in the 2014 Federal Budget.
"The Federal Government's Small Craft Harbours Program has been very supportive of harbours in Bruce-Grey-Owen Sound and I am pleased to see that another local harbour will be receiving significant funding for important maintenance work," said Miller. "The work at the Meaford Harbour will help to ensure the safety of users and their vessels at the harbour as well as maintain the harbour as a focal point in the community."
Funding for the project will be received through the Small Craft Harbours Program. This program is responsible for over 1000 small craft harbours across Canada.
Furthermore, Miller also announced important funding for the Meaford Community Theatre. It was announced today that the Meaford Community Theatre group will receive up to $2,500 through Veterans Affairs Canada's Community Engagement Partnership Fund, to assist with production costs for the theatre's production of Peace and War. The funding will also support the distribution of approximately 200 complimentary tickets so that students in the community may attend.
The two-hour production, which will feature performances by local musicians and an original short drama reflecting on Canada's conflicts and peacekeeping missions during the last century. The production is being held on the eve of Remembrance Day, November 10 th, 2014, to honour the service and sacrifices of Canada's Veterans.
"I am very pleased to see that the Federal Government will be supporting the Meaford Community Theatre and their production of Peace and War which will recognize the sacrifice made by those who have served Canada in armed conflict," said Miller. "This funding is certainly well-deserved and I commend the members of the Meaford Community Theatre for their work on this production."
This announcement is taking place in conjunction with the launch of the Government of
Canada's World Wars Commemoration period, which coincides with the 100 th anniversary of the beginning of the First World War and the 75th anniversary of the beginning of the Second World War.