By Stephen Vance, Editor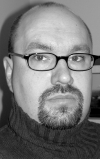 Meaford is about to embark on a "branding exercise".
There is no cause for alarm (or excitement depending on your perspective), I have been assured that no members of council will be harmed during the branding process, though I would anticipate that the project will result in some interesting debate.
In a report submitted to council at the Monday night meeting, Meaford CAO Frank Miele- who did not attend the meeting- advised council of the upcoming quest to find out how best to market the municipality with a logo and tag line.
The municipality will spend $5,000 in consulting fees to conduct the branding exercise, and in the report Miele has indicated that the exercise "will canvass the community through some workshops and consider whether the existing logo accurately depicts the community, or possibly suggest some options to the municipality."
There will be some who will question the wisdom of spending $5,000 to develop a branding strategy- Councillor Gerald Shortt as many would expect, has already suggested that this could be money well wasted.
I would suggest though that if ever there was a community that could benefit from taking a look at their image and how it is presented to the world outside of the borders of the municipality, Meaford is a prime candidate.
In recent years this municipality has endured a multitude of issues that have slowly chipped away at the municipal armour causing the exposed metal to tarnish and indeed rust.
Lawsuits filed by former employees, a lawsuit filed by the municipality against it's own residents, squabbles over Meaford Hall, division – at times quite heated – between rural and urban residents of the amalgamated municipality, a mayoral resignation, resignation of councillors, deficits, dispute about the elimination of deficits, and the list goes on.
Yes, this municipality could certainly use an image overhaul. When a community such as ours finds itself constantly in a boiling pot of contentious issues, it is easy for us – and those outside our community – to forget why so many of us are here. The things that make this community special sadly become lost in all of the turmoil.
The current municipal logo is a fair representation of the municipality on the whole though it does look somewhat dated. The logo includes an apple of course, and water, and fertile land, and those are all important components of this community – or rather of it's geography.
But what about people?
The people of this municipality are the true essence of our community, and if the municipality is going to take the time and money to explore the branding of this municipality, I think that the focus should be on people.
I'd like to see a logo and tag line that honour our residents – in all parts of our municipality. I am hopeful that the 'canvassing of the community' that Miele speaks of in his report will be a genuine attempt to discover what our residents want, what our residents feel, and to really reflect upon who our residents are.
With all of the division and hurt that this municipality has experienced in recent years, we could use something like a new branding to help bring us all together with a positive outlook toward the future.