Stephen Vance, Staff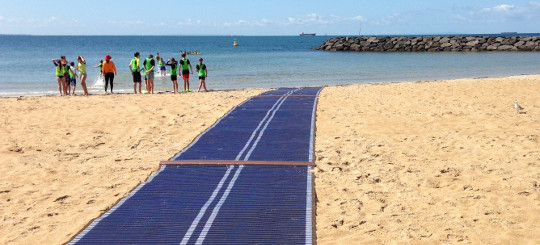 David Johnston Park, located beside the Coast Guard station, will soon be more accessible for people with physical disabilities, after a $10,100 grant from the Enabling Accessibility Fund awarded to the municipality will be used to install 200 feet of a product called Mobi-Mat RecPaths.
"Mobi-Mats are portable and durable roll-out mats designed to enhance mobility for pedestrians, individuals with mobility-related disabilities, and wheelchair and stroller users. The mat provides a portable walkway across the sand allowing for easy access to the water's edge," said the municipality in an announcement of the grant.
The park was renamed David Johnston Park last May in recognition of a visit to the municipality by Canada's Governor General, during which he presented Meaford's new coat of arms and insignia. Meaford Mayor Barn Clumpus made the recommendation at the May 2 council meeting, and her motion found unanimous support from her fellow councillors to rename the park adjacent to the Coast Guard station at Meaford's Harbour 'David Johnston Park'. The Governor General serves as the Honorary Chief Commander of the Canadian Coast Guard.
"The Governor General's office has been intimately connected in designing and producing our new coat of arms that this council has approved the initial drawing of," the mayor told council at the time. "In conjunction with such an important visit to our municipality, there is a relationship between the Governor General and the military, and he specifically has a strong honorary relationship with the Coast Guard. So, it is customary when a visitor of such importance comes to visit that there is recognition of that event in some way, and it seemed that this would be an appropriate mechanism, and an appropriate venue to recognize this visit."
The municipality says that upgrades to the park are expected to be completed by the spring, in time for beach season.