Staff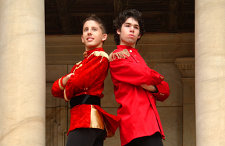 This holiday, treat yourself and your family to The Nutcracker: that shimmering, glittering spectacle of holiday cheer as performed by Collingwood's own Fleet-wood Dance Centre.
The Nutcracker Ballet is a rite of passage for children, and an annual must-attend event for many. Show times are 2pm and 7pm on Saturday, December 14, tickets just $10 for children and $20 for adults at Meaford Hall Arts & Cultural Centre. It just wouldn't be the holidays without The Nutcracker...
Fleet-wood's Nutcracker comes to Meaford Hall every two years.
"It's a lot of work, and it takes a huge focus," says Artistic Director Sharon Fleet. This year's performance of The Nutcracker will feel like homecoming week as former dancers and teachers join the current staff to put on the production.
The school's co-founder, Jane Wooding (presently an instructor with the National Ballet School and George Brown College's School of Performing Arts) is a contributing choreographer to the performance of Nutcracker. Colin Eccles (Fleet-wood graduate with a Masters in Music with honours) stars as the Nutcracker Prince and choreographs some of the production, including the battle between the mice and the gingerbread men. Elizabeth Lougheed-Brown (graduate and former teacher at Fleet-Wood) dances the role of the Snow Queen. Former student Lauren O'Neil White (who performed in the opening and closing ceremonies of the Vancouver Winter Olympics) performs and choreographs the Waltz of the Flowers.
Fleet says she tries to change up the production each year it's staged.
"The students get to enjoy being in different roles each time, and they can look forward to it," explained Fleet.
Don't miss this holiday special at Meaford Hall Arts & Cultural Centre this Saturday, December 14 at 2pm and 7pm. Tickets are just $10 for children and $20 for adults – available online or through the Box Office.