By Stephen Vance, Staff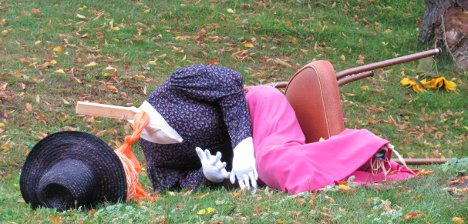 Sometime overnight between Friday September 20, and Saturday September 21, vandals damaged a scarecrow display on Station Hill.
The Independent was contacted Saturday morning by Marilyn Morris, who organizes the annual Scarecrow Invasion and Family Festival, who said that she was saddened for her large team of volunteers who dedicate numerous hours each year to build the scarecrows and displays which are featured throughout the downtown core.
"I'm so saddened that anyone would do this," Morris told The Independent. "The volunteers work so hard."
The Station Hill display has become an annual tradition for the festival, and is often one of the largest scarecrow displays created by the volunteers.
On Saturday morning many of the scarecrows had been knocked over, and some had been partially dismantled.
Volunteers worked in damp, cold conditions throughout the day to repair what they could in order to return the display to its previous condition.
The annual scarecrow displays have traditionally been left alone by would-be vandals, with only a few minor incidents of scarecrow vandalism having taken place in the 17 year history of the event.
This year's Scarecrow Invasion and Family Festival will take place on Friday October 4.