Staff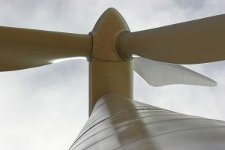 The first week of the fall session of the Ontario legislature began with Bruce-Grey-Owen Sound MPP Bill Walker pushing local issues to the forefront of debate at Queen's Park.
Walker's first Statement before his fellow MPPs in the Legislature was a call on the Liberal government to respect rural Ontario's veto vote against wind turbines. He urged Liberal Premier Kathleen Wynne to honour her promise and allow a moratorium in communities that have declared themselves as unwilling hosts to wind farms.
In the case of Bruce-Grey-Owen Sound, that would mean no wind farms anywhere in Grey and Bruce counties.
"The residents and municipal leaders in my riding share a mutual understanding that wind turbines have a negative impact on the residents' health and the economic well-being of their communities," he said. "This Premier explicitly promised she would not impose any wind project on any community that did not want it. She now has to cede planning control to local governments over whether or not new wind projects will go in their communities. Honouring that promise is her moral imperative."
To date, 65 municipalities have declared themselves as unwilling hosts to wind turbine farms, and about 100 have passed resolutions in favour of an immediate province-wide moratorium on any new wind turbine installations.
"The wind turbines situated so close to people's homes pose serious health problems, evidenced by the Bruce Grey Public Health Unit's recent study that concurred with these long-standing concerns," Walker said. "We're urging (you) and (your) government to accept the municipalities' veto vote and to respect that no means no."
Walker also stood up for Markdale residents this week when he tabled more petitions to call on the Minister of Health and Long-Term Care to honour her government's promise to Markdale residents to build the new hospital.
The MPP also delivered a Statement in conjunction with his colleague and Huron-Bruce MPP Lisa Thompson in praise of Yolanda and James Cameron of Walkerton for their courage to launch the new cyber-counselling website for youth in crisis, wesforyouth.ca, in honour of their son Wes. Said Walker: "It's the Camerons' hope that through this resource others may be spared the pain and grief they have endured, and is truly a selfless act and a wonderful legacy to their son."
Walker said his party's agenda for the fall session is to continue to put jobs and the economy on the Premier's agenda, while holding the Liberal government's feet to the fire over the expensive gas plant scandal, overspending and waste.