Staff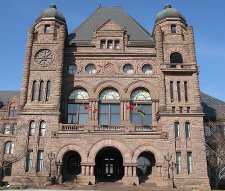 Bruce-Grey-Owen Sound MPP Bill Walker rose during Tuesday's (June 4) question period to urge the health minister to stop cutting physiotherapy services.
"Seniors are afraid your plan to provide physio services through the LHINs and CCACs will result in drastic cuts to their treatments," Walker told Minister of Health and Long-Term Care Deb Matthews at Queen's Park.
"While you're giving us verbal assurances that seniors will not be limited to 12 treatments, the budget for physiotherapy has been set on that basis."
Walker said the ministry spent about $200 million last year on physiotherapy services for seniors yet projects to spend only $156 million this year toward physiotherapy, exercise and fall prevention services.
"That's a $44-million cut," he said. "Minister, are you planning on cutting services to seniors or breaking yet another budget promise?"
Walker has also started a petition against these cuts, which are available at his constituency office at 920 1st Avenue West in Owen Sound.
"Constituents are welcome to drop by and sign the petition," says Walker, "I support our seniors in long-term care homes receiving the physiotherapy services they need. Why won't the minister of health do the same?"