Staff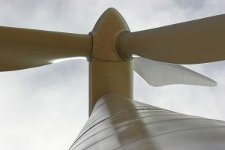 Bruce-Grey-Owen Sound MPP Bill Walker says the only way for the Liberal government to undo the damage that he and his party says has been caused by controversial wind energy policies, is to give municipalities veto power.
"In my opinion, if the government was sincere about its past mistakes, then it would have given unwilling host municipalities the power to say block unwanted developments in their backyard," Walker says. "A chorus of municipalities is asking for veto power over energy projects. Yesterday's announcement from Premier Kathleen Wynne included no such authority. As such, her announcement is hogwash."
Walker says he is concerned that the problems of health impacts and reduced property values will continue despite the government's promise to give municipalities "more say."
"Frankly, none of us knows what that means. It's either you have the power to veto or you don't," offered Walker.
Walker adds that the government made a promise in its new budget to ramp up wind projects. In fact, he adds, the government is planning to ramp it up in Ontario by 900 megawatts over the next four years.
"Seeing how the rules remain the same, I suggest that municipalities will continue to clash against wind developers," he says.
The Liberal government passed wind-energy legislation back in 2009, setting lucrative fixed prices for electricity generated by renewable projects such as wind turbines and solar panels through a Feed-In Tariff (FIT) program. However, the government was forced to rewrite the FIT program after the World Trade Organization ruled it was in violation of international trade laws.
The Ontario Progressive Conservatives made cancelling the FIT program and restoring local decision making a central part of their Affordable Energy white paper released last spring. According to Walker, "It's a well-documented fact that FIT has been driving up hydro rates for families and killing manufacturing jobs."
"No matter how they try to spin it, the Green Energy Act continues to be flawed," Walker says. "I encourage everyone to call the Premier's office. Tell her you want the power to veto unwanted energy projects in your community. This is the only way to make this policy right."