Staff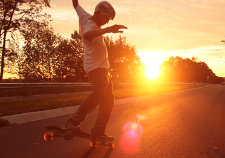 It's that time of the year again, in the next few days, school children will be out on summer break and the Grey County Ontario Provincial Police (OPP) would like to remind motorist to take care.
With the children being out of school, there the will be an increased amount of pedestrian and bicycle traffic on our streets.
Motorists are reminded to:
Drive with care, especially near parks and recreation centres.

When coming upon bicycles give them space.

Slow down, and keep an eye for children playing near the street.
Parents please talk with your children:
Remind them of pedestrian rules when walking and crossing the streets.

Bicycle helmets are the law for those under 18. Parents be an example and wear yours too.

Buddy system is always best.
Children are carefree, not careless. Let's do our part in keeping them safe.
Have a safe and happy summer!